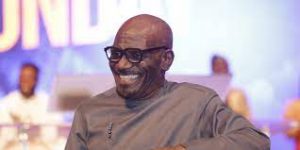 The Fountain of Life Church shared the heartbreaking news of the passing of their esteemed Senior Pastor, Taiwo Odukoya. The renowned pastor breathed his last on Monday, August 7, in the United States of America.
The church, in a heartfelt statement, conveyed their deep sorrow while submitting to the divine will of God Almighty. The announcement read, "The Fountain of Life Church Family, in total submission to the will of God Almighty, announces the passing unto greater glory of our Father, Teacher – a great servant of the Most High God, Pastor Daniel Taiwo Odukoya, Founding Pastor of The Fountain of Life Church, who passed unto glory on the 7th of August 2023 in the USA. We are in total submission to you, LORD!!! We thank the Lord for the gift of a greater leader!!!"
Born on June 15, 1956, in the city of Kaduna, Colonial Nigeria, Pastor Taiwo Odukoya's journey of service and faith began. He received his primary and secondary education at Baptist Primary School, Kigo Road, Kaduna, and St. Paul's College (now known as Kufena College, Wusasa) Zaria, respectively. In pursuit of higher education, he enrolled at the University of Ibadan in 1976, ultimately earning a degree in petroleum engineering in 1981.
Odukoya's professional journey took him to the Nigerian National Petroleum Corporation (NNPC) in April 1982, where he commenced his work as a petroleum engineer following the completion of the National Youth Service Corp (NYSC) scheme. His dedication and contribution to the field led to a notable career, culminating in his voluntary retirement in January 1994, following a distinct and profound calling to the ministry.
In the midst of his journey, Pastor Taiwo Odukoya's personal life was marked by a profound connection. In the year 1980, while pursuing his education at the University of Ibadan, he crossed paths with Bimbo Williams. Their connection blossomed into a deep and lasting relationship, eventually leading to their union in marriage in 1984. The marriage bore witness to the joy of parenthood, as they were blessed with three children.
Tragedy struck the Odukoya family on December 10, 2005, when Bimbo Odukoya, along with 102 other individuals, lost their lives in the tragic crash of Sosoliso Airlines Flight 1145. Bimbo Odukoya's messages and teachings had left an indelible mark on many hearts, resonating with countless individuals.
As the Fountain of Life Church and the wider community come to terms with the loss of a cherished spiritual leader, they hold dear the legacy of Pastor Taiwo Odukoya's unwavering dedication to faith, service, and his profound impact on those whose lives he touched.