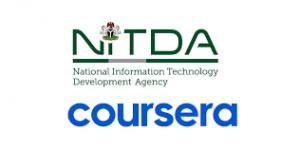 The Federal Government of Nigeria, through the National Information Technology Development Agency (NITDA), in partnership with COURSERA has continued to display its commitment to empowering the youths of the country by offering job-ready digital skills scholarship training programmes towards youth dependency and marketability.
The second cohort which is a six-month training programme that is fully funded by NITDA in partnership with COURSERA is aimed at building the digital capacities of Nigeria's youths that will enable them to earn professional certifications from top United State of America's colleges and global tech giants.
Enriched with artificial intelligence, user exchange design, user inter-phase design, web development and android development courses and many other courses, the training programme aligns with the Federal Government's commitment to creating 1 million jobs for youths in the digital economy.
Welcoming the participants to the webinar, the NITDA's Director General, Kashifu Inuwa CCIE who was represented by the Agency's Acting Director, Digital Literacy and Capacity Development Department, Dr Amina Sambo expressed his deep pleasure at the enthusiasm displayed by the trainees towards the learning process.
Referring to testimonies shared by the some of the beneficiaries of the just concluded Cohort One training programme, who have acquired digital skills that are marketable globally, he urged the participants to make the best use of the opportunity given to them.
He explained that over 150,000 applications were received and selected applicants have been sent emails on their various scholarship programmes. He however assured others that it is a continuous process and they would be
given opportunities in the future.
"We are very pleased to tell you that NITDA has signed a partnership with COURSERA and it is a three-year partnership. We are going to be providing this scholarship to Nigerians for three years in total," he reiterated.
While delivering his presentation during the induction for the Cohort Two, the COURSERA Senior Customer Success Manager, Mr Khaled Al-Kokhon congratulated all successful applicants for the scholarship programme.
He stated that COURSERA is the largest online education company with over one 100 million learners globally who get access to COURSERA content with courses from top universities such as Duke, Yale, Princeton and many more.
Urging the participants to make the best use of the programme, he stated that "the partnership between NITDA and COURSERA will give Nigerians access to high-quality contents which will enable you to up-skill and re-skill
yourselves into future jobs that COURSERA and NITDA have curated content for".
The first ten participants to complete a professional certification which includes the Associate level, the Professional level and the Expert level would be given laptops as prizes for their prowess.