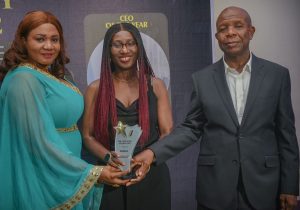 Nigeria's most innovative brand, 9mobile, has been recognized for its innovative efforts in the telecommunications sector at the 2023 edition of The Industry Awards held recently in Lagos.
The event was organized to appreciate the outstanding contributions and achievements of organizations in various industries, including telecommunications. 9mobile stood out in the telecommunications industry with its innovative products and services that have impacted the lives of millions of Nigerians.
9mobile won the "The Industry Award for Innovation" award, a testament to its commitment to designing new products and providing innovative solutions to meet the communication needs of its customers.
Speaking on the awards, the Executive Director of Regulatory and Corporate Affairs, 9mobile, Abdulrahman Ado, represented by the Public Relations Lead, 9mobile, Chineze Amanfo, expressed his gratitude and attributed 9mobile's success to its customers and dedicated team. "We are thrilled to be recognized for our innovative efforts in the telecommunications industry. This feat would not have been possible without the support of our customers and our dedicated team, who work tirelessly to deliver top-notch products and services. We remain committed to providing innovative solutions to make life easier and more convenient for our customers."
The Industry Awards is a prestigious event that celebrates Professional, individual, corporate, and product brands, organizations, and individuals that have made significant contributions to their industries through innovation and creativity. It is designed to converge professionals in the marketing communications industry, including technology, banking, manufacturing, advertising, public relations, government agencies, and academia, to share ideas and network.
He further stated, "At 9mobile, we believe that innovation is the key to unlocking new opportunities and driving growth in the Nigerian telecommunications industry. We are committed to delivering innovative solutions that meet the evolving needs of our customers and driving growth in the Nigerian telecommunications industry."