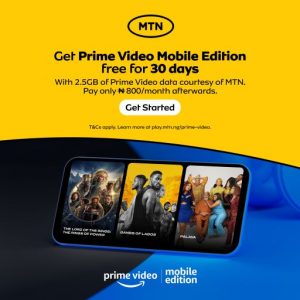 MTN Nigeria and Amazon's Prime Video have partnered to offer Prime Video Mobile Edition, a mobile-only, single-device subscription. Customers of MTN who sign up will get access to the whole catalogue of Prime Video, which includes more than 9,000 movies and 1,500 TV episodes, in standard definition with a cost-effective and specific data package for streaming and downloading.
Subscribers will enjoy a 30-day free trial with 2.5GB of Video Data, exclusively for the Prime Video app. After the free trial, they can then enjoy Prime Video Mobile Edition for N800 per month only, with their airtime.
Select MTN customers are eligible to sign up for Prime Video and enjoy the first 3 months, courtesy of MTN Nigeria. Thereafter, for only N2,300 per month, customers can conveniently subscribe using their airtime. A Prime Video subscription gives access to the vast catalogue across TV, mobile and tablet devices, enabling subscribers to stream and download in high definition, on up to 3 devices simultaneously.
According to A'isha Umar Mumuni, Chief Digital Officer at MTN Nigeria: "We are excited to offer Prime Video subscriptions to millions of Nigerians providing them with access to entertainment on their own terms – where and when they want it. Video-on-demand has become a major part of our lives and this launch offer is important to make every customer's journey to their desired content more accessible and affordable. The Prime Video platform boasts thousands of titles with over 150 Nollywood titles already and several Nigerian Originals currently in the pipeline. We are confident this relationship will bring value to both our customers and the Nigerian movie industry."
These plans will be available from March 13, 2023. Customers can sign up for these offers by visiting: play.mtn.ng/primevideo