The groundbreaking of the first factory of its sort, worth millions of dollars, owned by Tingo Foods Processing, which is located in the rural hamlet of Onicha-Ugbo in Delta State's Aniocha North Local Government Area, was marked by pomp and ceremony.
Eminent figures in Nigerian government and business, including the minister of agriculture and rural development, Dr. Mohammad Mahmood Abubakar, attended the event, which was hosted by Dozy Mmobuosi, a serial entrepreneur of Nigerian descent from the UK, HRM Obi Chukwumalieze 1, Barr Peter Kogolo, president general of the Onicha-Ugbo Patriotic Union, and other esteemed chiefs of the community.
Tingo Foods, a subsidiary of Tingo International Holdings Incorporation is setting up of its food processing facility in Delta State.
A statement a few days ago by the founder of Tingo International Holdings Dozy Mmobuosi noted that the project which costs 1. 6 billion USD will also save Africa from paying foreign exchange to import finished food products. Additionally, it will aid the export of made in Africa foods to the world enhance inter African trade via the Africa Continental Free Trade Agreement and sell high-quality and nutritious food products in Nigeria.
Mmobuosi, an iconic tech guru is making the massive investment as a way of giving back to his birthplace, Delta. He has vowed to revolutionise the African Food Industry and create direct employment for the teeming youths in Nigeria, providing a significant boost to the Nigerian economy and contributing to the United Nations' Sustainable Development Goals (SDGs). The SDGs aim to end poverty, protect the planet, and ensure peace and prosperity for all. The facility's job and wealth creation will help support SDG 8, Decent Work and Economic Growth, and SDG 2, Zero Hunger.
In recent times, the African food processing industry has thrived at snail's pace, with low productivity and poor usage of human capital.
Africa's farmers and agribusinesses could create a trillion-dollar food market by 2030 if they can expand their access to more capital, electricity, better technology and irrigated land to grow high-value nutritious foods, and if African governments can work more closely with agribusinesses to feed the region's fast-growing urban population, according to a new World Bank report launched recently.
According to Growing Africa: Unlocking the Potential of Agribusiness report, Africa's food systems, currently valued at US$313 billion a year from agriculture, could triple if governments and business leaders radically rethink their policies and support to agriculture, farmers, and agribusinesses, which together account for nearly 50 percent of Africa's economic activity.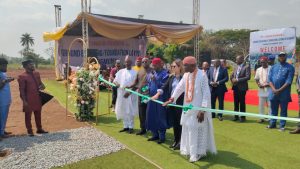 Due to a combination of population growth, rising incomes and urbanization, strong demand is driving global food and agricultural prices higher.
The formal foundation laying of the project took place in Ishiekpe village Onicha-Ugbo, Aniocha North local government area of Delta State.
The factory is expected to begin operations in the next 18 to 24 months.
Mmobuosi noted that the facility is the first phase of a multi-billion dollar investment that Tingo International Holdings plans to make in the African food industry.
The company would decongest the labour market with the creation of no fewer than 12,000 direct employments with the setting up of its food processing facility in Delta State.
The host community of Tingo foods, Onicha-Ugbo, is a town located within latitude 6˚18'N and 6˚22'N and longitude 6˚20'E and 6˚26'E in the northern boundary of Aniocha North Local Government Area of Delta State, Nigeria. It is situated on a highland about 40 km from Asaba on the Asaba-Benin Express Road connecting the West to the East of Nigeria. OnichaUgbo is bordered to the East by Issele-Uku and Idumuje-Unor, to the West by Igbodo and Obior, to the North by Idumuje-Ugboko and Ewohinmi and to the South by Ubulu-Uku.
Iconic Dozy Mmobuosi is close to buying English Football League club Sheffield United at a £90 million takeover.
According to The Times, the 43-year-old who co-founded Tingo Mobile, an Agri-Fintech company that aims at helping African farmers, will be subject to the EFL's Owners' and Directors' Test.
Sheffield United have faced a great financial crisis but Mmobuosi who is valued at $7.6 billion can complete the acquisition of the club after making a larger deposit of the money.