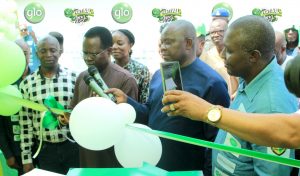 It was indeed an overflow of joy from 20-year-old Ibrahim Ayanleke Abiodun, a first-year student of the University of Ilorin, and his mother as they were announced as the latest winners of a 3-Bedroom apartment in the ongoing Glo Festival of Joy promo.
On Friday, December 16, which was the day of the presentation, the event proceeding was interrupted a few times to accommodate Abiodun and his mom's expressions of joyful tears as they received their new house keys.
The Executive Chairman of Ibeju Lekki Local Government, Engineer Abdullahi Olowa, Honourable Noherm Adams, member representing Etiosa Constituency 1 in the Lagos State House of Assembly, and Globacom officials, were among those who witnessed this exhilarating experience.
In his speech, the Executive Chairman of Ibeju Lekki, Engineer Abdullahi Olowa, appreciated the great strides of Globacom, stating that the company had, since inception, pioneered and sustained the noble tradition of putting subscribers first in its operations.
"It is heartwarming to note that Globacom still keeps faith with the tradition of adding wholesome value to the lives of its subscribers", he said.
Globacom's Regional Manager, Lagos 1, Mr Temitope Ayeni, encouraged subscribers wishing to participate in the promo to "dial the dedicated short code *611# and recharge as appropriate to stand a chance to win any of the prizes on offer. Subscribers who desire to win any of the 3-bedroom houses must make data subscriptions up to at least N20,000 during the promo period. The more they recharge, the higher the chances of winning", he said.