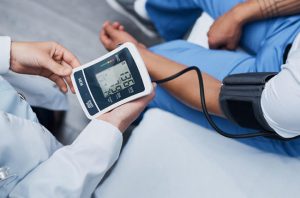 By making these 5 lifestyle changes, you can lower your blood pressure and reduce your risk of heart disease.
If you've been diagnosed with high blood pressure, you might be worried about taking medication to bring your numbers down. Lifestyle plays an important role in treating your high blood pressure. If you successfully control your blood pressure with a healthy lifestyle, you might avoid, delay or reduce the need for medication.
Here are 10 lifestyle changes you can make to lower your blood pressure and keep it
1. Lose extra pounds and watch your waistline
Blood pressure often increases as weight increases. Being overweight also can cause disrupted breathing while you sleep (sleep apnea), which further raises your blood pressure.
Weight loss is one of the most effective lifestyle changes for controlling blood pressure. Losing even a small amount of weight if you're overweight or obese can help reduce your blood pressure. In general, you may reduce your blood pressure by about 1 millimetre of mercury (mm Hg) with each kilogram (about 2.2 pounds) of weight you lose.
Besides shedding pounds, you generally should also keep an eye on your waistline. Carrying too much weight around your waist can put you at greater risk of high blood pressure.
In general: Men are at risk if their waist measurement is greater than 40 inches (102 centimetres). Women are at risk if their waist measurement is greater than 35 inches (89 centimetres). These numbers vary among ethnic groups. Ask your doctor about a healthy waist measurement.
2. Exercise Regularly
Regular physical activity – such as 150 minutes a week or 30 minutes a day can lower blood pressure.
If you have elevated blood pressure, exercise can help you avoid developing hypertension, if you already have hypertension, regular physical activity can bring it down to a safe level.
Some of the exercise that lower blood pressure includes; swimming, walking, jogging or dancing.
3. Eat Healthy Diet
Eating a diet that is rich in whole grain, fruits, vegetables, and low-fat dairy products can lower your blood pressure by 11mm Hg.
4. Reduce Sodium Intake
A small reduction of sodium in your diet can improve your heart health and  reduce your blood pressure by about 5-6mm Hg
The effect of sodium on diet varies among different people. In general limit the intake of sodium to 2,300mg a day or less, moreover 1500mg or less is perfect for adults.
5. Reduce Or Stop The Intake Of Alcohol
Alcohol can be good or bad to the health depending on the rate of consumption. One a day for a woman or 2 a day for a man can help reduce blood pressure by about 4mm Hg.
One a day equals 12 ounces of beer, 5 ounces of wine, or 1.5 ounces of 80-proof liquor.
Drinking excessively can increase blood pressure, and can also reduce the potency of the high blood pressure medication.
In conclusion.
Getting support from family and friends can help increase your health. They may encourage you to do your exercise, watch your diet, and help cut down excess calories.