The former Public Affairs Director of the Nigerian Communications Commission, Mr Tony Ojobo has sent condolence message to the family of the late Chairman of the NCC board, Alhaji Ahmed Joda. Mr Tony Ojobo who served the commission for more than three decades says the late Ahmed Joda was a quintessential technocrat with eye for details.
Below is his tribute  
My heartfelt condolence goes to the family of Alhaji Ahmed Joda, the Chairman of NCC from 2000 – 2010.
Alhaji Joda passed a few days ago
His tenure as the Chairman of NCC Board of Commissioners gave birth to the revolution witnessed in the ICT Ecosystem today.
He was a quintessential technocrat with eyes for details. His ability to decipher issues and analytical mind was legendary.
The combination of Alhaji Joda and Engr Ndukwe an accomplished technocrat, Administrator and a telecommunications guru laid a perfect foundation for a thriving telecommunications industry that has become a leader in Africa.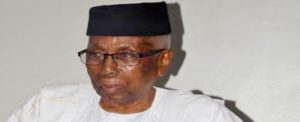 Alhaji Joda and Engr Ndukwe took over an industry that had a tele density of 0.04% or about 450,000 active lines in 2000 and rose to 63.11%  or 157.8 million connected lines and approximately 89 million active lines in 2010 at the expiration of their tenure. This was no doubt revolutionary. We celebrate Alhaji Joda for this accomplishment.
It is most auspicious to note that the Board of NCC had other distinguished telecommunications experts such as ; Engr Olawale Ige, ( former Minister of Communications) Engr Austine Otiji ( former MD of NIITEL) Engr Patrick Kentebe, and other distinguished Nigerians.
Alhaji Joda was an experienced Chairman who presided over the NCC Board with the dexterity of a corporate guru. His tenure witnessed such activities as , institutional strengthening (by the World Bank , Deloitte and Touché & Detecom Gmb) telecommunications demand study, restructuring of NCC to attract quality personnel, and of course the icing on the cake- the Digital Mobile Licence ( DML) auction, adjudged as one of the most transparent spectrum auctions in the world.

The revolution across the spectrum of the ICT industry today is traceable to the doggedness, commitment, integrity and forthrightness of Alhaji Joda. Those of us who worked under his tenure remember his days as the golden era of NCC. His counsel in the industry will be missed.
Whenever the history of the telecommunications development in Nigeria is told, the role played by Alhaji Joda will occupy prominent mention on the pages of the history.
May the Lord comfort his children and the entire family.
Adieu to a quintessential technocrat