Newwaves Ecosystem, a creative Digital Company has partnered with Galaxy Backbone Limited, to facilitate the deployment of Konn3ct solution in the public service space in line with the local content drive of this administration.
Konn3ct solution, a brainchild of Newwaves Ecosystem is Nigeria's first unified video communications platform that spans video, voice, content sharing, and chat across desktop, mobile and workspaces.
Speaking during the formal agreement signing, Prof. Muhammad Abubakar, Managing Director of Galaxy Backbone (GBB) represented by Baffajo Beita, Head Of Enterprise Business Group, said, Galaxy Backbone is happy to promote indigenous solutions especially, in the areas of aiding business of government.
Konn3ct platform will give the best value for money in terms of ease of communications, improved security, ease of use and payment in Naira which will help to save government foreign exchange.

Williams Olufemi, Chief Enabling Officer/Director, Newwaves Ecosystem thanked the Management of GBB for their belief in local solutions that is better than many other competing products in the market.
According to him, "I am sure that Nigerians and the Federal Government will be proud of what we have been able to develop here.
"We are happy to announce that the Konn3ct platform had been registered by NITDA.
"Apart from the retail online meetings and Web conferencing features, we have integrated a Learning Management system to Konn3ct to make it suited for the educational sectors in Nigeria".
Olufemi further noted that government should not pay lip service to National Policy for the Promotion of Indigenous Content but be seen to consume the content.
He questioned why government and its agencies will still be using foreign platforms for their meetings, conferences, webinars, live-classroom, syndicate events, and remote cinema among others, when we have a local platform that is challenging the statuesque.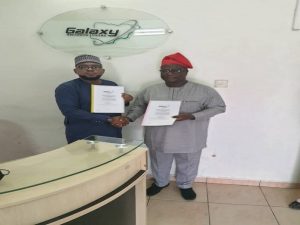 He said, "Why should Federal executive Council meeting be held on Webex, why should NITDA be using MS Teams, Why should the VP office be using Zoom, Why should the Federal and State legislature be holding their meetings on foreign platforms.
"Government need to not just preach local content but be seen to consume the content.
"You will notice how vibrant and profitable the entertainment industry is now because Nigerians develop taste and preference for the local content.
"Konn3ct could just be a vehicle for radical change and transformation of the local ICT sector.
"Don't forget that Nigerian banks collectively spend over 1Trillion Naira on core banking software every year. Imagine if local players are encouraged" he added.