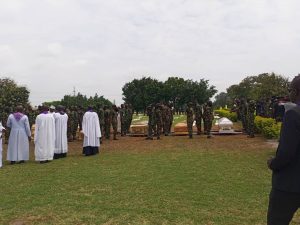 In a somber ceremony that highlights the sacrifices made by the nation's defenders, the military is presently presiding over a poignant mass burial for the valiant personnel who tragically lost their lives during a harrowing ambush and subsequent air crash in Niger State. This heartrending event serves as a poignant reminder of the tremendous dedication and unwavering commitment exhibited by these brave soldiers in the line of duty.
The grievous incident transpired on August 14, 2023, when a group of ruthless bandits launched a surprise ambush on a contingent of troops stationed in Niger State. The shocking attack resulted in the tragic loss of 14 soldiers, whose lives were cut short by this cowardly act. Additionally, seven soldiers sustained injuries during the assault, further underscoring the perilous nature of their mission and the challenges they face in their efforts to maintain peace and security.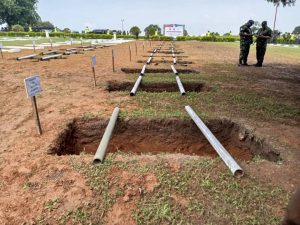 As a nation mourns the loss of these heroes, their sacrifices are being honored through a poignant and solemn mass burial ceremony. The poignant event is unfolding at the revered National Military Cemetery, located in the heart of Abuja. The cemetery stands as a hallowed ground, a final resting place for those who have selflessly given their lives to protect their fellow citizens and uphold the sovereignty of the nation.
The mass burial serves not only as a moment of grieving but also as a testament to the unbreakable spirit of camaraderie and unity that binds the armed forces. High-ranking officials, fellow servicemen and women, and dignitaries gather to pay their respects, offering solace to the bereaved families and acknowledging the monumental sacrifices made by these courageous individuals.
As the military honors its fallen comrades, the nation stands united in its support for the armed forces and in condemnation of the heinous acts perpetrated by those who seek to destabilize the peace and security of the nation. The memory of these fallen heroes will serve as an indomitable source of inspiration, propelling the resolve of the armed forces to continue safeguarding the nation and its citizens from any threats that may arise.
In commemorating this tragic event, it is imperative to reflect upon the tremendous sacrifices made by these soldiers and to reiterate the nation's unwavering commitment to eradicating the scourge of terrorism and insurgency. Through unity, resilience, and continued dedication, the nation can strive to ensure that the sacrifices of these fallen heroes were not in vain, and their legacy will forever be etched in the annals of the nation's history.