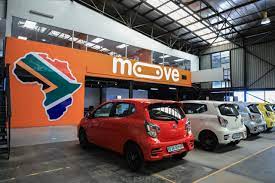 Moove, an African automobile financing startup, has said  it has successfully secured $76m financing which will boost Nigeria's mobility and logistics sector.
It said it got a total of $334m in funding across 14 rounds. Its most recent funding, obtained through a private equity round, was secured on Wednesday.
The company boasted of backings from 31 investors, with notable names like BlackRock and Mubadala joining as the latest contributors.
It said in a statement that, "Moove is different from typical mobility companies like Uber or Taxify; instead, it operates as an automobile financing startup that employs a hire purchase model. Under this approach, Moove rents cars to drivers, who eventually become car owners after paying the predetermined value set by Moove."
According to the statement, the collective efforts of Nigerian mobility and logistics startups were making a substantial impact, employing 1,374 individuals in total, averaging around 49 employees per company, as highlighted by Disrupt Africa's research.
On the latest funding, Moove said it was now over halfway to becoming a unicorn at $550m valuation.  A unicorn is a privately held startup company valued at over $1bn.
Recal, since its launch in 2020, Moove has rapidly expanded its operations within Nigeria and entered new African markets, including Ghana, Kenya, Uganda, and South Africa, as well as the United Kingdom, Europe, the Middle East, and Asia. It's also Uber's exclusive car financing company in Africa.
Moove has operated a plug-and-play model that allows it to scale rapidly into new markets and record minimal defaults by building on top of the technology of its mobility and logistics partners and integrating their APIs to generate creditworthiness scores for automobile financing.
However, this rapid scaling has come at a cost. In February, Moove drivers protested in Lagos over unfair working conditions. In May, Rest of World reported how Moove impounded vehicles for nonpayment of loans in Lagos as drivers continued to complain.
However, this has evidently not dampened investor confidence. Faris Sohail Al Mazrui, the head of ventures and growth at Mubdala, will join Moove's advisory board.
He said that Moove is addressing a hugely underbanked and underserved market with a long term potential by providing entrepreneurs with credit and financial services.