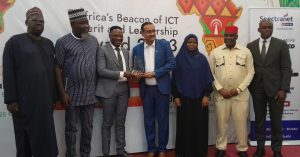 Dr Krishnan Ranganath, Regional Executive-West Africa at Africa Data Centres (ADC), has won the 2023 Africa's Beacon of Information and Communications Technology Merit and Leadership Award as "Man of the Year."
The award ceremony's organizer, Nigeria CommunicationsWeek, remarked that 'Man of the Year' is the highest honour given to a person each year while presenting the prize to Dr Krish, as he is affectionately known in the Nigerian ICT sector.
"We are honoured to present to Dr Krishnan Ranganath, Regional Executive-West Africa at the Africa Data Centres, 'Man of the Year' award," announced Mr Ken Nwogbo, Founder and Editor-in-Chief of Nigeria CommunicationsWeek at the event held at the prestigious Oriental Hotel in Lagos.
He said that Dr Krishnan Ranganath was picked for the prize by important industry stakeholders who think he has contributed a great deal of experience to the data centre field, which is dubbed the new oil.
Africa's Beacon of ICT Merit and Leadership Award, now in its 14th year, is recognized as the most distinguished annual occasion accessible in Nigeria's ICT sector. Industry observers and experts consider the award, which is intended to honour both individuals and business entities, to be merit-based.
Meanwhile, Dr Krishnan, who was clearly taken aback by the honour, described it as "heart-warming" and "thought-provoking," especially as he had not anticipated receiving such recognition from a media outlet and other industry players.
He feels that receiving the honour will push him to work even harder.
"I am surprised to have been called out for this recognition. My takeaway from this recognition is that the industry appreciates what we are doing at Africa Data Centres to empower businesses in Nigeria and Africa," he told Journalists on the sideline.
Earlier in a lecture, he presented at the event titled 'Digital Transformation and Cloud Services as New Order', Dr Krishnan had stated that the Nigerian cloud industry, which is expected to grow at a compound annual growth rate (CAGR) of 25% from 2022 to 2027 presents ample opportunities for businesses: integrating emerging technologies like edge computing, AI, machine learning, IoT and blockchain.
He believes that Nigeria's cloud will lead to capital flight reduction, improved responsiveness to citizens' or customers' needs, increased transparency, enhanced public service delivery and enhanced human capital and create new jobs.
Speaking about the digital gap, he argued that capacity building and promoting women in ICT are important for bridging the digital divide and promoting inclusive growth. "In Nigeria, only 22% of ICT jobs are held by women. Encouraging and promoting women's participation in ICT can lead to increased innovation and economic growth," he said.
By building a foundation for future generations, presenting Nigeria as the Silicon Valley for human capital, and generating value for the system and its citizens, digital transformation and cloud services will secure the success of Nigeria and Africa. By giving people and businesses new chances, it would also change Nigeria.
This shift, however, calls for robust regional infrastructure and a dedication to cloud neutrality. Thanks to organizations like Africa Data Centres, which is already facilitating the growth of regional digital economies and utilizing its top-notch data centre infrastructure in Lagos and other African nations like Kenya and South Africa, businesses are now able to innovate and compete on a global scale.