Global technology giant OPPO has once again outdone itself with the stunning Reno8 T series, which was released in Nigeria in March.
First of all, the smartphones were a huge success right away. Their pre-orders sold out in a matter of days, setting a record for the industry. They also received rave reviews from tech enthusiasts and saw a large influx of customers following the pre-order period, who flocked to stores to make purchases.
According to a press release, the Reno8 T series, which consists of two excellent models in both 5G and 4G versions, has revolutionized the market for mid-range smartphones.  Among other premium features, the "Portrait Master" 5G model includes a 108MP camera, 5G functionality, a 120Hz 3D Curved AMOLED Screen, and a 67W SUPERVOOC fast charger that provides more than 5 hours of talk time on a 5-minute charge.
On the other hand, the 4G variant comes with a 100MP portrait camera, a Fiberglass-leather Design, a 5000mAh Battery with 33W SUPERVOOC rapid charging, and more. Numerous other outstanding features are included on both smartphones, including expandable RAM, dual stereo speakers, and 48-Month Fluency Protection.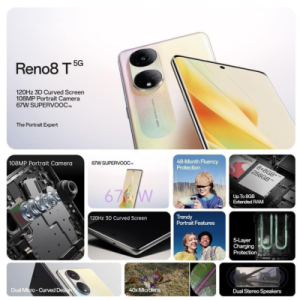 With consumers searching for mid-range smartphones that are both affordable and come with super-impressive features, OPPO delivered the perfect solution to the needs of millions of Nigerian mobile users with the Reno8 T series. This explains why the enthusiasm from customers is only getting stronger, as buyers have expressed excitement and satisfaction with the Reno8 T smartphones.And the best part? You can get all these incredible features at unbeatable prices! Selling at N289,999 Naira for the 5G Variant and N219,999 Naira for the 4G Variant, the OPPO Reno8 T series is the best value-for-money mid-range smartphone available in Nigeria. Little wonder customers are flocking to retail outlets to get their hands on this amazing device.
The company then urged the public to join the haut monde league and get hands on the OPPO Reno8 T series today!