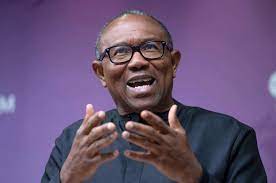 The campaign office of the Labour Party on Wednesday said Peter Obi was detained and harassed by immigration officers at Heathrow Airport in the United Kingdom.
On Wednesday the  Head of the Obi-Datti media team Mr. Diran Onifafe issued a statement confirming that  Obi had been detained and questioned for a duplication offense Onifade stated that someone has been impersonating Obi in London.
He said "The Presidential Candidate of the Labour Party, Peter Obi just got back from London, United Kingdom where he celebrated Easter, and was harassed by London immigration officials and placed in detention''
"Obi-Datti Media office can confirm that the LP Presidential candidate in the February 25 Presidential poll arrived at the Heathrow Airport in London from Nigeria on Good Friday, April 7, 2023, and joined the queue for the necessary Airport protocols when he was accosted by an immigration official who handed him a detention note and told him to step aside. He was questioned for a long time and it was very strange for a man who lived for over a decade in that country.
"Since Obi's face was already an international frame, especially for Nigerians, Africans home, and in Diaspora who are likely to be Obidients, the people quickly raised their voices wondering why he was being delayed.
"The immigration officials who were also taken aback at the reaction of the people were forced to reveal that Obi was being questioned for a duplication offense meaning that someone has been impersonating him in London.
"The high implication of the offense is that the impersonator could be committing all kinds of weighty crimes and other dubious acts and it would be recorded in Obi's name."
Onifade, however, accused the Nigerian government of "demarketing" Obi by accusing him of treason.
"Obi's telephone line was also bugged when they were possibly looking for information to portray him badly before a section of the country who had voted for him massively," Onifade said.
"As if they were not getting the desired results of denting his image, and possibly placing the traducers under a heavier conscience load, they tried to persuade him to leave the country and go take a rest."
He discloses Obi is in Nigeria as of Wednesday and is doing charity work, visiting health and educational institutions making donations, and winning awards.